Mountain Lakes and Streams near Graham County NC
Lake Santeetlah and Santeetlah Dam
Formed in 1928 with the construction of Santeetlah Dam, Lake Santeetlah consists of seventy-six miles of mostly natural forested shoreline. Almost 80 percent of the shoreline is public land managed by the United States Forest Service. Lake Santeetlah has a wide variety of fish, the most popular being smallmouth bass, largemouth bass and walleye. More than 50 primitive campsites are scattered around the lake.
Maps: Lake Santeetlah, Graham County Trails, Lakes & Waterfalls
Websites: Purchase NC Fishing License On-Line, Santeetlah Marina , Deyton Camp Boat Rentals, Boat & Trailer Service, Live Bait, Supplies  Nantahala National Forest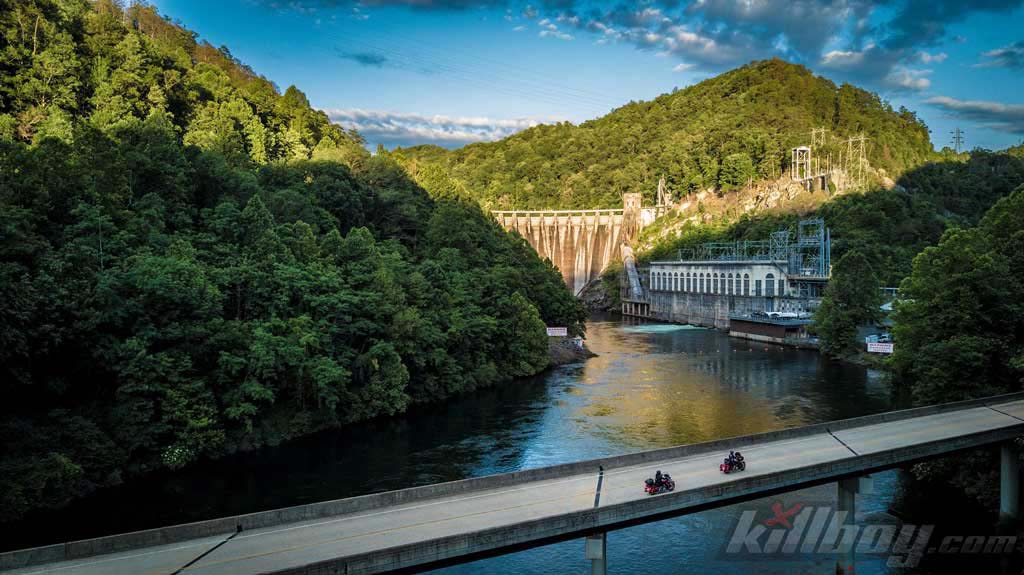 Cheoah Lake and Cheoah Dam
Cheoah Lake was formed with the completion of Cheoah Dam in 1919. The Lake consists of 644 acres along its 9.5 mile run. Cheoah Dam is also known as Fugitive Dam. The 1993 movie The Fugitive featured Harrison Ford jumping off the dam to avoid capture. The dam also appeared in the 1971 movie Two Lane Blacktop and the 1998 movie In Dreams. At the time of completion Cheoah Dam was the world's highest overflow dam at 225 feet and its turbines were the largest in the world. The waters on Cheoah Lake flow for the bottom of Fontana Lake and are always cold. Many days this results in a lingering fog over the lake. Fish include lake and brook trout, bass, crappie and bluegill. There is a new boat ramp at the eastern end near Fontana Dam and a canoe launch at Twenty-Mile Creek.
Calderwood Lake and Calderwood Dam
Calderwood Lake was formed with the completion of Calderwood Dam in 1930. The lake covers 570 acres in its 8 mile run. The lake is fed from both Cheoah Lake and the Cheoah River. Several scenes in the 1998 movie In Dreams starring Annette Bening and Robert Downey, Jr. were filmed on Calderwood Dam. The backcountry trails of Slickrock and Ike Branch begin at the southern end of the lake. There is a boat ramp just off US 129 at the southern end.
Maps: Calderwood Lake, Graham County Trails, Lakes & Waterfalls
Nantahala Lake & Nantahala Dam
The Nantahala reservoir is located just north of Franklin, NC and is regulated and maintained by Duke Power Company. Much of the shoreline is either forest service or wildlife resource area. There is one public boating access area. Fish in the reservoir include walleye, crappie, sunfish, trout and bass. This pretty lake is framed by the mountains and not overcrowded by boaters.
Maps: Nantahala Lake
Websites: VisitNantahala.com
WHITEWATER
Cheoah River
The western North Carolina mountains offer some of the best whitewater rafting/paddling rivers on the east coast. Graham County's own Cheoah River has the wildest nine-miles of Class IV rapids. Santeetlah Dam releases flows into the Cheoah River according to a regular schedule.
Links: Brochure with Map (PDF),  Map of Cheoah River, Cheoah River Release Schedule
Nantahala River
This is a great family white water experience with only one class IV rapid at the end.  People are allowed to go down without a guide on this 3 hour adventure.
Ocoee River
Home of the 1996 Summer Olympic Kayak and Canoe competitions, the Ocoee has few class V rapids. River is regulated by a dam. During the day, you'll see many rafts and people. US 64 runs alongside the river west of Copper Hill, TN.
Chattooga River
This river is where the movie Deliverance was filmed. The river, with many class V rapids, is naturally flowing and complete wilderness. It is only for serious adventure seeker. Rafting trips are regulated with a group of 5-6 rafts going down every hour. Life preservers, helmets, raft, and guides are provided.
Rafting Outfitters: Outland Expeditions  Endless River Adventures, Nantahala Outdoor Center
TROUT FISHING
The North Carolina delayed harvest is from October 1 through the first Saturday in June. This is when specific bodies of water are ruled as single hook, artificial, catch and release only. When trout fisheries are heavily stocked and strict "catch and release" rules are implemented it allows novice fishermen to get out and test their skills in an environment where fish are plentiful and competition from bait fisherman is nonexistent.
Snowbird Creek delayed-harvest section starts at a foot bridge just above the Junction at the end of Big Snowbird Creek Road and extends about 2.8 miles downstream to a concrete bridge known locally as Chestnut Flat Bridge, see Detailed Trout Fishing Map.  Read this Carolina Sportsman article for more information.
Nantahala River wild trout waters in the upper section, delayed-harvest in the middle section, and a mix of healthy stream-raised and stocked trout in its lower section. Nantahala River is also a popular rafting river therefore the NC Wildlife Resources Commission allows night fishing downstream from the power house.
Slick Rock Creek is home to big wild brown trout and offers native trout fishing in the headwaters. Graham County Trout Fishing Trails
Snowbird Creek is stocked with Rainbow, Brown, and Brook in the lower section and Native Brook trout in the upper section. Graham County Trout Fishing Trails,
Hazel Creek located on the north side of Fontana Lake in Smoky Mountain National Park, accessible only by boat or foot. Contact Fontana Marina for shuttle service. For information on Hazel Creek and other trout streams in the Smoky Mountain National Park, see website  FlyFishingSmokyMountain.com, Graham County Trout Fishing Trails,
Information and regulations links: Graham County Trout Fishing Trails, Nantahala National Forest, WNC Fly Fishing Trail,  Detailed Trout Fishing Map
Guided Fly Fishing contact websites: Noon Day Fly Fishing,  Endless Rivers Adventures Company, Steve Claxton, Smoky Mountain Outdoors, Nantahala Fly Fishing
WATERFALLS
Graham County Waterfalls:  Printable Waterfall Map
Scattered throughout our mountains like precious jewels, waterfalls in Graham County are not generally seen from the paved roads. Inevitably, when you reach one, you will be glad you did.
Bald River Falls: On the Tellico River Road just off the Cherohala Skyway. See the spectacular falls right from your car. The Tellico River parallels the road offering many scenic spots at any time of the year.
Falls Branch Falls Trail begins at West Rattlesnake Rock on the Cherohala Skyway. It is a popular trail and is shorter than most in the area. It follows an old forest road for most of the time, before descending steeply into the Falls Branch valley where a spectacular 80-foot tall waterfall awaits. Round trip in and out is 2.7 miles.
Bartram Falls: On the Bartram Trail south of Cheoah Bald. Trail is 3.2 miles one way. Difficulty 7, beauty 5.
Big Falls: Small multilevel cascade on Snowbird Creek in the Nantahala National Forest. Trail is 3.9 miles one way with a difficulty rating of 3 out of 10 and a beauty r of 6 out of 10. Even though the falls is named "Big Falls," the falls is actually a multilevel cascade. A steep side trail leads to the base of the cascade, where silky willow shrubs grow near a flat, rocky area.
Middle Falls: A 20 feet fall on Snowbird Creek in the Nantahala National Forest. Trail is 5.1 miles one way with a difficulty rating ranging from 3 to 7 and a beauty rating of 7. The cardinal flowers blooming in August around Middle Falls make that month an excellent time to visit. Of the four falls in the Snowbird Creek basin, Middle Falls is considered the best for photographing.
Sassafras Falls: A 50 feet fall on Sassafras Creek in the Nantahala National Forest. Trail is 3.5 miles one way with a difficulty rating of 3 to 6 and a beauty rating of 5. The basin containing Sassafras Falls was used by the Cherokee Indians as a hideout during the Removal of 1838. Descendants of those Indians now live nearby in the Little Snowbird community.
Upper Falls: Small sliding cascade on Snowbird Creek in the Nantahala National Forest. Trail Length 6.3 miles one way with a difficulty rating ranging from 3 to 7 and a beauty rating of 4. Upper Falls is small and hidden from view by overgrown vegetation. Most of the tail to Upper Falls is along an old narrow-gauge railroad grade. In the 1930s, there was extensive timber logging in the Snowbird Creek basin. The railway was used to haul out the logs. After the Forest Service purchased the land in 1943, the tracks were removed.
Wildcat Falls: On Slickrock Creek Trail accessed from Tapoco or Trailheads.
Yellow Creek Falls: Located at the end of a 0.3 mile walk and is a perfect place to have a picnic lunch and still get back for afternoon fun. The trailhead is on Highway Route 129 heading north from Robbinsville, about four miles south of the Tapoco Lodge, on the right. This is a favorite swimming spot and utterly delightful at any time of the year.
Yellow Hammer Falls: On US 129 just south of Tapoco. Can be seen from the highway.
Twenty Mile Cascades: From Twenty Mile Ranger Station hike 0.5 mile to the cascades. Numerous trails branch from this area, including access to the Appalachian Trail, Benton MacKaye Trail, Twenty Mile Loop Trail (7.6 miles) and other paths.
Lower Falls and Wildcat Falls: Take the Slickrock Creek Trail from Cheoah Dam. Lower Falls is 3 miles one way and Wildcat Falls is 4 miles one way. Wildcat is actually three falls close together with a swimming hole below them. This trail is not easy or flat.
Rainbow Falls: On NC 28 between Fontana and Stecoah. Usually a trickle, but spectacular in winter when the falls freeze.
Other Smoky Mountain Waterfalls: There are several other waterfalls, including Wright's Creek Falls and Burgan Creek Falls. These waterfalls are so difficult to locate that it is best to hire a professional guide to lead you to them. Remember to always take a map, compass and a stout walking stick when hiking in our mountains. Wear shoes that are designed to cushion and protect your feet from the roots and stones on the trails. Pack up some water and snacks and start your adventure.
Waterfall Websites:  NCwaterfalls.com
Waterfall Byway: This byway earns its name from the 200 waterfalls that surround the route along Hwy 64 from Murphy to Rosman, NC.
Websites: Waterfall Byway website